I'm routinely running reports and watching the Chicago housing market. And because I live there, I keep a close eye on all the homes and condos for sale in Lincoln Square.
The home prices on Chicago's northside might take a tumble in the next couple years if the latest low-transaction counts start translating to lower prices.
But in the meantime, prices in Lincoln Square on condos and single-family homes continues to rise. Here's what we see so far this year for condo and single-family home owners: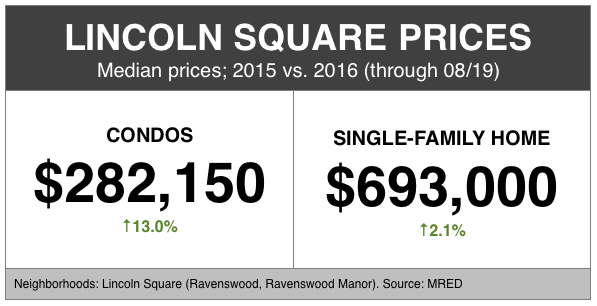 There are a limited number of apartment buildings for sale in Lincoln Square too. But the numbers are too small to get a good statistically-accurate idea of price movement. Nonetheless, 2-4 flat apartment buildings seem to be rarely available, and highly-competitive.
If you have any questions about your home in Chicago, call or text me anytime at 773-980-6683!
-Phil Byers