Once upon a time in the Chicago housing market, there was a shortage of inventory. It happened when our market started to "turn" upward after an unprecedented 6-year-run of falling home prices. This was 2012.
Why did housing inventory tighten? With historically low interest rates, an improving economy, improving unemployment rate, and affordability on the rise, buyers started coming back into the market. And sellers weren't ready to take advantage of it.
You can see the market turn clearly in BOTH charts below. Single-family home and condo inventory both DROPPED in 2012. Condo inventory saw a huge tightening as total listings dropped almost 17% from 2011. During that same time, the number of buyers writing accepted contracts on condos rose 31%. The amount of available inventory that ended up being "eaten" jumped to 68% in 2012 from just 43% in 2011!
"There's a shortage of housing inventory in Chicago!"
This was true. In 2012. And in 2013. But by 2014 it started to ease back. And today, to say "there isn't enough inventory" just isn't exactly true.
Condos are doing pretty well: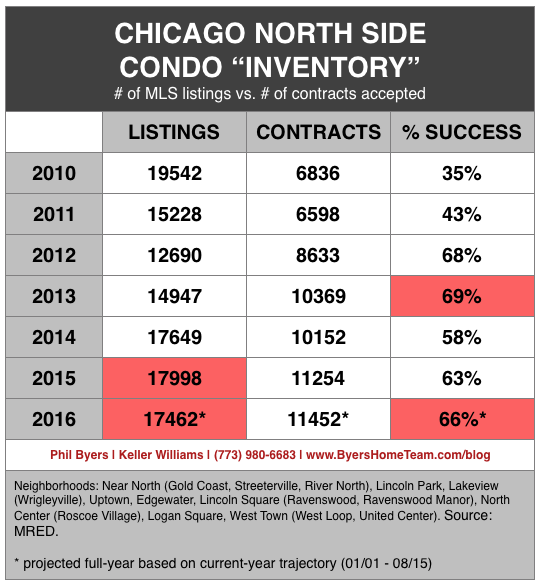 The obvious: the number of projected listings in 2016 will be LESS than in 2015 (about 3% less). And more buyers will buy this year than last year. So the 66% success rate shows a "tighter" market than in 2015.
CONDO CONCLUSION: condo inventory is low, but not as low as a few years ago. Keeping an eye on the number home buyer contracts in the next few months will be important to understand if this trend continues.
The single-family home market is another story: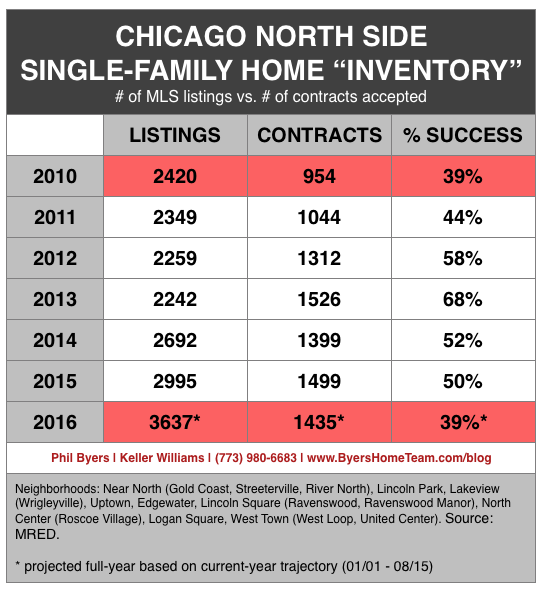 Homeowners on the north side got the memo! House listings will be up almost 22% in 2016. That's great! Except the number of buyers is dropping. A 39% success rate harkens all the way back to a dark year in our market – 2010.
SINGLE-FAMILY HOME CONCLUSION: we do not have an inventory issue. In fact, we might have *gulp* too much inventory.
If you have any questions about your home or condo, call or text our team anytime at (773) 980-6683!