It's not so cut-and-dry figuring out what home prices are doing in a given neighborhood in Chicago. For instance – if I use ALL condo sales in a huge city like Chicago to determine values, I'm pulling from a patchwork of neighborhoods, demographics, home-type makeup, etc. It's not always apples/apples.
So when it comes to condo data, I like to use 2 bedroom, 2 bath condos as the benchmark "type" for what prices are doing. I call the 2/2 the "bread and butter of Chicago real estate".
This deserves explanation because when looking at West Loop prices, there is a difference between results on ALL condos, and just 2 bed, 2 bath condos: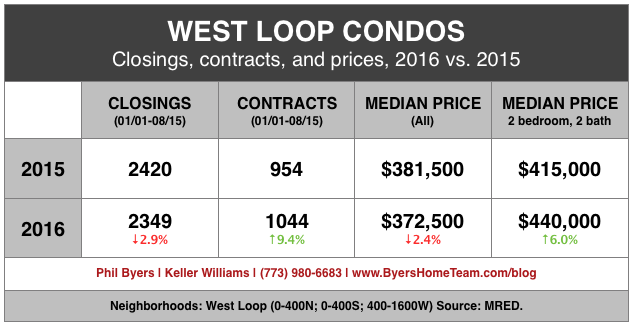 Using 2/2 condos as the measuring tool: prices are UP in the West Loop in 2016. Up 6% to be exact. But when looking at the entire pool of condos, West Loop home prices are falling (-2.4% so far in 2016). The drop isn't significant, but it's notable. Are prices really falling? Or is the data too "unfocused" to give us a clear picture?
The other two columns give us clarity. Closings have fallen a little bit, but contracts are up 9.4%. This means more closings are on the horizon. And more closings (typically) means higher prices.
Just to be sure, I also localized the timeframe for looking at "accepted contracts". Specifically, I wanted to see if (like in the overall Chicago housing market) contracts in the West Loop have recently started to decline. Here's what I found: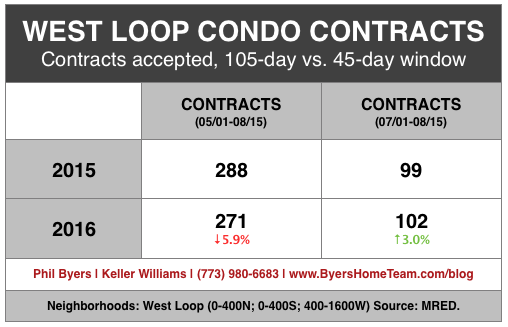 CONCLUSION: the West Loop will see higher prices for 2016, and should enjoy rising prices in 2017. The figure to watch is the contracts and closings. When they go up, so do prices. When they drop… so do prices.
Have questions about your condo or home in the West Loop? Call or text our team today to get an over-the-phone valuation! (773) 980-6683.
Have a great week!
Phil Byers
Keller Williams Chicago