"Uptown is about to turn the corner" has been the battle cry of homeowners since… forever. A real estate boom, an unpopular Alderman, a real estate bust, gang violence, TIF money, that CTA redline stop at Wilson, the big Target on Clark – all have been headline stories about the neighborhood. And finally, it looks like Uptown is turning that corner.
Here are the condo numbers so far for 2016 vs. 2015: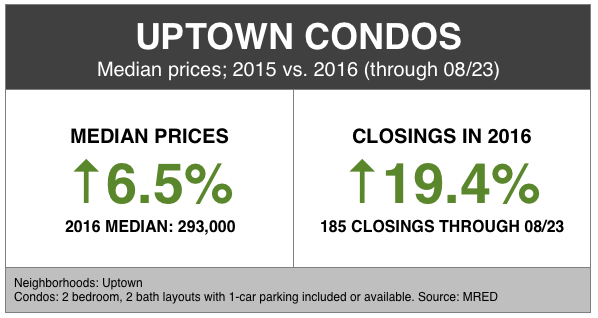 Prices are up 6.5% and the number of closings is up almost 20%. People are buying and investing in Uptown. More money usually means more infrastructure. More of both usually means higher housing prices.
Uptown should see housing values finish "up" for 2016. And with the pace of new contracts and closings in the market, it also looks like 2017 should provide positive gains.
If you have any questions about your home in Uptown or any of the northside neighborhoods, call our team today for an over-the-phone evaluation of your home's value!
Phil Byers
Byers Home Team | Keller Williams
(773) 980-6683